Services
Software Product Engineering
Faster time to market, shorter product lifecycles, optimal functionality, proven expertise, customized integration. We offer excellent product development solutions and Give Wings to your product..
With our domain expertise built over the last more than 16 years, Pratham Software (PSI) has delivered hi-tech OPD services. We specialize in software product development across platforms.
Innovation is at the core of every approach we take in the development process. We understand the rising market pressures to bring profitability.
Today the market has matured both in terms of usage and in terms of the competition and this has resulted in growth in the Product Development market. We at Pratham Software (PSI) enable you to reach these heights of inventive growth.
Select the right technology and align it with your business objectives and product requirements for a viable product solution.

Quality is not just confined to the source code but it prevails across the entire project delivery.
Product Engineering Services @ PSI
Since its inception in 2000, Pratham Software (PSI) has provided OSPD services to its client. Leveraging on its people expertise, it has successfully played an integral role in developing a number of global level enterprise class products.
We provide services across the Product development spectrum. Our experience and technical know-how in this area extends beyond just development to include functional enhancements, migration and porting, testing, maintenance and support.
We have successfully worked on numerous software products. Moreover, NASSCOM has recognized us amongst the top 25 companies in the OSPD space.
At Pratham Software (PSI), we enable you to select the right technology and align it with your business objective and product requirements. It is further secured by simultaneous risk management, product configuration and quality management.
Our capabilities:
In terms of platforms, Pratham Software (PSI) has expertise and experience across all major platforms viz. Microsoft, Java, Linux, PHP, etc. In addition, we work on leading mobility platforms namely, Android, iOS and Windows.
We have flexibility to work on product development projects using various project management methodologies like Agile, RUP, Extreme Programming,Waterfall and co-development etc.
Software Product Life Cycle Solutions: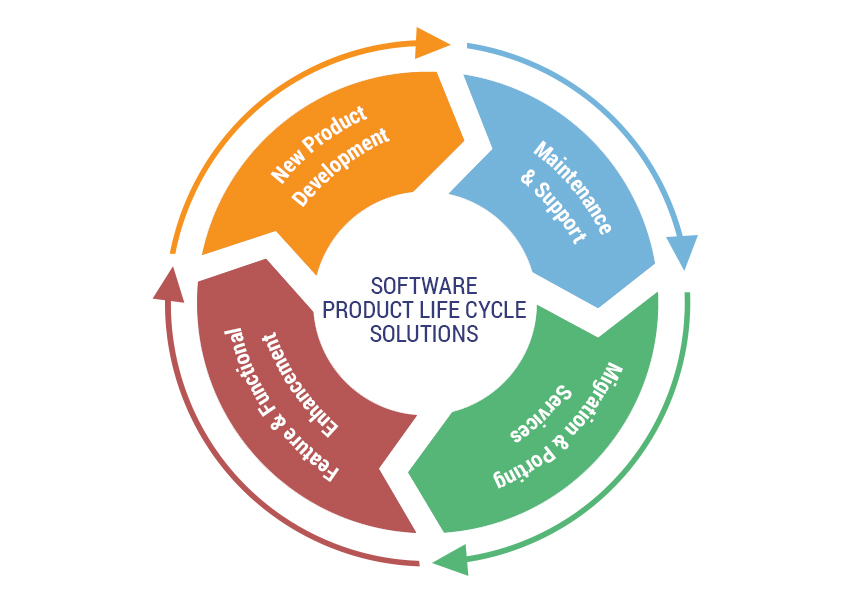 We offer our clients (specifically ISVs) a complete Software Product Life Cycle Management solution, which involves strategic support from our experts for various phases of product lifecycle; ranging from product inception/introduction to product maturity and maintenance. We hold applied experience with core product engineering services comprising;
Four core heads of OPD @ Pratham Software (PSI):
New product development: We understand our customer's diversified needs of new software product development. We have designed, developed and successfully implemented software products for both end clients and software product marketers. We understand the economics and maintain optimum balance between crucial factors like, time to market, better management of resources, market and technology risks, reliability, fit for purpose, etc.
Feature & functional enhancement: We have developed productriented dynamic processes, which enables us to react to growing as well as changing needs of customers. By adopting distributed Agile development methodologies we add new features and unctionality to existing products and provide strategic advantages, namely,reduced time-to-market, lowered total cost of ownership and de-risking in business.
Maintenance and Support: Our product support team is anamalgamation of technology and domain specialists providing quality support and maintenance. In addition, we offer support for Database,data warehouse and Network.
Migration and Porting services: It is a challenge to support roducts across different platforms. Our Migration and Porting services enable our product evelopment clients to meet cross-platform compatibility challenges by providing transformation from source to target, across design architectures and platforms, while optimizing the code for equivalent or superior performance. Moreover, we have evolved a mature migration methodology that wraps all stages ranging from impact analysis to deployment and testing.
Product Testing & QA
We bring extensive experience to produce commercial grade of quality software products in the light of contemporary challenges faced by a successful enterprise. At Pratham Software (PSI), Quality is not just confined to the source code but it is much more than that. We understand that in today's complex heterogeneous business environment software products are supposed to excel on scalability, portability, security, industry processes and integration aspects of an enterprise..
Our Solutions stack:
Unit, multi-unit & system testing
User acceptance testing (UAT)
Functional testing
Performance testing
Usability testing
Installation & Configuration testing
Security testing
Localization and Internationalization testing
Products integration testing
Regression testing
Our Expertise
Test Management Tools:

Team Foundation Server 2013
MS Test Manager 2013
Redmine 3.3.0
Bugzilla (2.0 and higher)
Team Foundation Server 2013
Automation Tools:

Selenium (2.0 and higher)
Ranorex (5.x and above)
QTP 8.2
Appium 1.x

Performance Tools:

JMeter 2.x
Load Runner 12.50
SQA Highlights
Highly Managed Test Labs
Cross Platform test coverage including Linux, Windows, Macintosh, Mobility platforms
Multiple configurations coverage

Web and Application Servers
Multiple database coverage

Automation Tool Usage
Performance Bench-Marking and Profiling
Iterative Testing
Application Development & Maintenance
We bring technical expertise and partner with our clients to develop Custom Software Solutions and contemporary Applications for greater ROI enabling faster time to market.
Experienced specialists in business analysis and architectural practice areas.

...we are in a position to deliver value generating solutions for our clients.

...offer technical expertise, domain know how and hands on experience.

...successfully deliver on unique enterprise requirements.
Business decision take place in real time and any kind of interruption with the smooth flow of the business application can impact these decisions and resultant growth. It is crucial to partner with a software services provider who holds expertise across various technology domains and methodological approach for service delivery. Over a decade, PSI has been delivering application development services to global customers across geographies and domains.
ADM @ Pratham Software (PSI)
We provide application development services across technology domains and applications. Moreover, we have gained experience and expertise in the following technology areas: Client server, desk top and web based applications working on technologies such as: .NET, C++/C#, Java, J2EE, EJB, Web logic, JSP, ASP, CGI, MS Access, SQL, and Oracle, etc.
With our process driven approach, we bring extensive experience across diversified technology platforms. Our quality and process framework is directed by ISO 9001:2008 specifications.
We offer:
Bespoke/Custom Application Development: Technically, any application developed is customized; the difference being that the packaged applications are designed for a generic functionality to serve a broad range of users. Pratham Software (PSI)'s flexible approach enables the client to materialize virtually and conceptually.
Application Migration: When organizations grow & transform there is a need to integrate their existing systems and applications with the Web or shift from the existing technology or platform to some other technology/platform while still retaining the competitive advantage of their conventional and established systems. Our migration and re-engineering services help you successfully transform your existing systems and data to other platforms.
Application Testing: Our experts acquire knowledge of the application, deploy dedicated infrastructure and human resource in testing the application. The applications are tested at a macro level for performance, functionality, compatibility and regression. Independent modules/units are tested for the above mentioned features.
Application Maintenance: It is crucial to maintain the non-discretionary IT costs (cost of maintenance of the current running applications) in control. We provide low-cost management and safeguard your mission-critical applications, ensuring that your systems evolve with your business and adapt to the market conditions.
Application Integration: We hold expertise across various application development platforms and implementation solutions by integrating client's business strategy with technology. We ensure that we maintain speed and responsiveness in our delivery ; boosting efficiency in business operations.
Our Approach
With new architectures, processes and technologies getting upgraded every day, we offer the perfect combination of technical expertise, domain know-how and hands-on experience to successfully deliver on unique enterprise requirements. Our practice is highly client-oriented and technologically sound with mature project management and sound metrics management as its key ingredient.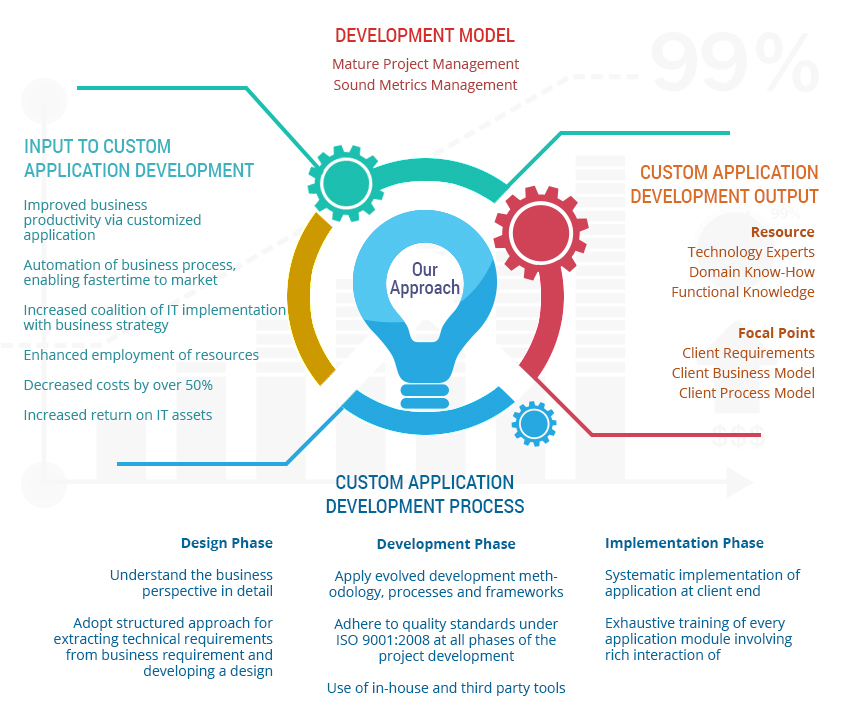 Software Testing
We partner with you beyond getting your products market-ready. By offering focused Software Testing and Quality Assurance services, we enable faster time-to-market with utmost quality control; hence Assuring Value.
Comprehensive software testing services strengthened by an independent center of excellence.
Testing and Quality Assurance are integral to a product's operational success. We offer comprehensive software testing services strengthened by an independent Center of Excellence. Our QA group contributes significantly to all our Software Development Projects as well as operates on Independent Testing projects. It operates as an independent Verification and Validation body, abiding by the QA Methodology and framework set by IEEE & ISO standards. We have a dedicated team of certified Software Testing Engineers with certifications from ISTQB, HP and Cisco. Our range of Software Testing services cover Enterprise Applications, Web Portals, iPhone Platforms and technologies including J2EE, .Net, PHP, Lamp, Flash, Flex, Silverlight, etc.
Testing services @ Pratham Software (PSI)
Team with testing expertise across domains like Operational Business Intelligence, BPM, HealthCare, B2B, ERP, Banking, Advertisement, etc.
Test Project planning, management, architecture, implementation, people management, estimation and client consultations services
Developing Test plans, Integration plans, Test Case specifications
System testing, Integration testing, Functional testing, Regression testing, UAT and Cross-Browser Compatibility across browsers namely, IE, Firefox, Safari, Chrome, TheWorld, etc.
Distributed Deployment (DD), High Availability (HA), Load Balancer Testing Services across geographical regions
Automation Framework Design, Implementation & Support services
Functional Automation scripting skills using tools that best fit your needs like Selenium, Ranorex etc
Performance Automation services capturing Stress, Load, CPU & Memory utilization using JMeter, SilkPerformer, profiler etc
Test Management Services using Bugzilla, Jira, TFS etc
Mobile application testing using mobile devices & online simulators
Maintaining test metrics, test harness, RTM, Results Analysis, Reports, etc
We Offer: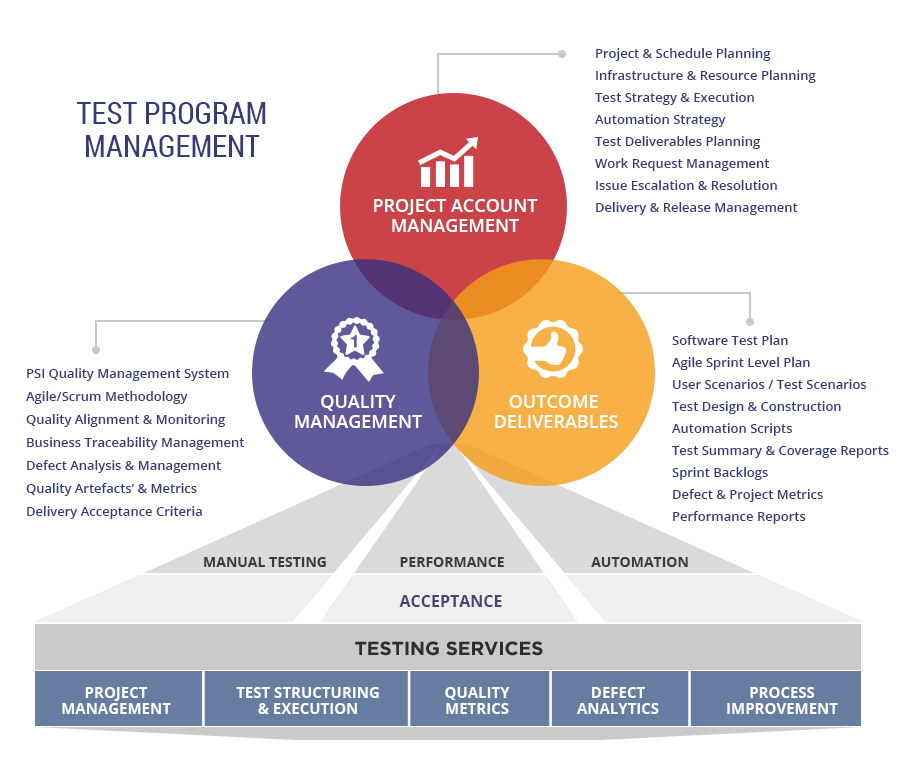 SI / BPM
We cross bottlenecks and get your processes rolling in a seamless motion with our Business Process Management services. PSI's BPM team collaborates with you to set the mechanism in place. We unlock your business processes and automate your business operations.
Beat inefficiencies in processes, further define them, automate them.

...recommend you on effective options and add value to your business objectives.

...eliminate application redundancies, provide business value and enhance the IT system's performance.
There is a growing need for organizations to model their business processes, automate them and implement a method to constantly enhance them. It brings agility and innovation in their business processes and gives them more competitive edge. Finally provide business managers clarity to monitor and analyze the operations for efficiency.
BPM @ Pratham Software (PSI)
In line with our objective to be an end-to-end BPM solution provider, we have developed extensive expertise across processes, namely, BPM program development, product implementation, integration, support and maintenance services using SBM (Savvion Business Manager) suite of applications.
On the technology front we have capabilities to work on both licensed products, namely, Savvion and IBM BPM; and open source platforms namely Activiti. We customize our offerings by the requirements and cost-effectiveness.
Savvion's BPM product SBM (Savvion Business Manager) is a global brand in BPM pure play vendors and has served more than 200 global business enterprises, public service agencies, systems integration firms, including 20 of the Fortune 2000, who have implemented Savvion systems to manage their business. We bring complete experience in SBM (Savvion Business Manager) implementation with topnotch blue chip MNCs and Fortune 500 clients providing Customization, Implementation, Business Process Production, Deployment and Support & Maintenance service.
We offer:
Business Process Discovery: Our team of experts work with you to define, map and analyze your organization's existing business processes. It provides a baseline for process improvements and identifies key problem areas to be addressed by BPM, which eliminates mere guesswork.
Business Process Consulting: We play a crucial role in strategizing the roadmap for delivering Change Management solutions. Our endeavor is to make your business grow with operational efficiency, business visibility, excellent customer experience, and agility giving the enterprise an edge over the competition.
Business Process Implementation: Our team focuses on the objectives and critical success factors of the individual business segments to devise an efficient process with relevance to the overriding business objectives. In the process, we leverage extensive SBM (Savvion Business Manager) experience with strategic and tactical methodologies ensuring success.
Business Process Automation:We analyze and identify opportunities to automate some of the key processes using BPM platforms. This will ensure that the business processes are seamlessly implemented and integrated within your organization. Process Automation using BPM will help you measure performance easily and when the business demands. This enables you to respond to changing business conditions and enables you to have a better control and insight.
Business Process Re-engineering:With this we help organizations to fundamentally rethink how they do their work in order to radically improve customer service, cut operational costs, and become world-class competitors. While the business goal and strategy changes very dynamically in today's competitive world, we enable you to identify bottlenecks in the current system, upgrade technology and need to re-engineer the complete set of processes used in current environment. This will help management to realign there goal backed by latest technology implementation.
Business Process Migration: Pratham Software (PSI) has the best in the industry experience of upgrading and migrating current set of processes in you BPM world. We provide end-to-end support ranging from identification of proposed solutions, till the actual implementation.
Process Testing (System, Integration & Performance):Testing of BPM solutions need a different set of approach and Pratham Software (PSI) has the team of best testing engineers in the industry and is equipped with latest testing tools. We serve complete testing needs along with reports and documentations. This helps organizations to implement the processes with error free tag.
Business Process Health check:Our experts review, analyze and evaluate current systems and provide recommendations for performance improvements , design changes, Application and hardware/software related configuration tuning, SQL optimization, DB tuning.
Production Support & Maintenance services:Pratham Software (PSI) team has invaluable onsite trouble shooting and experience on SBM suite of applications. Our application management, maintenance and support processes ensure that your systems are flexible to meet varying demands of your business, and provide measurable improvements to maximize your IT investments.
Pratham Software (PSI) Hybrid Support Model: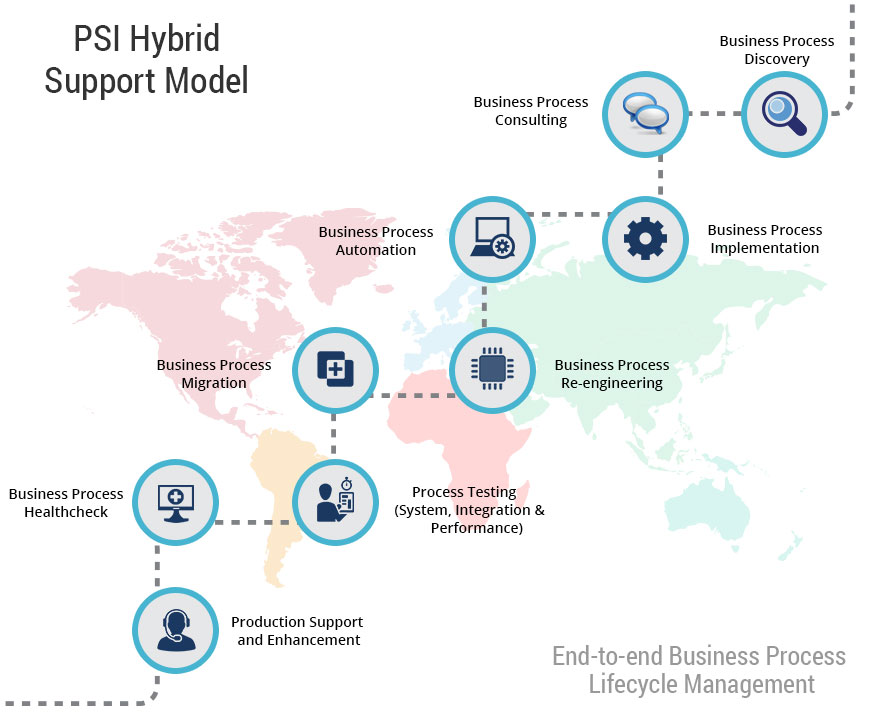 Content Engineering
With innovative and resourceful team of Visualizers, Designers and Developers with international exposure; we Transform the way you communicate; Enhance the impact of your content and Communicate effectively.
Expertise in Rich Media applications, develop engaging multimedia content.
With enormous flow of information and data across various online platforms, it becomes indispensable to streamline your content over the relevant virtual platforms embedding the required features and seek optimum mileage. This requires tremendous understanding and grasp over the trending technology.
At Pratham Software (PSI), our Multimedia team was conceptualized and formed with the vision to provide best suited solution to our customers. The solutions customized and provided are based on Adobe and other Multimedia technologies.
With expertise in Rich Media applications, we develop engaging multimedia content like, advertisements and integrate it with social media. We develop e-learning solutions and product demos using Flash technology. Our team has delivered over 5000 custom rich media advertisements with robust quality and review processes in place.
We bring about synergy and strategic utilization of Adobe technology platform with:
Extensive project experience on Adobe Flash and Flex technologies.
Upgrade the team members on Adobe cutting edge technologies.
Implement the best pattern and practices of architecture, design and development approaches.
Besides, we have versatile Rich Media Development experience with a strong emphasis on Actionscript 3.0 (OOP designs) with core expertise in application development using Flash & Flex, Digital Video integration, Live Data bindings and scalable frameworks.
We have worked with acclaimed Animation studios and production studios. However, our work is not limited to rich media demos, kiosks, Creative templates, websites (html5 and CSS3, PHP, Javascript, MySQL), and extendible applications. We also hold expertise in 3D Modeling, Animation and Asset Production. With specific requirements we can develop High Polygon as well as Low Polygon 3D models for Games and Simulation Engines.
View our elaborate portfolio on: http://www.vcreatedesigns.com/
Mobility Solutions
We believe that User experience and brand success is at the core of any Mobile Application Development. Pratham Software (PSI) team develops application for iOS, Android and Windows Phone.
Our Mobility solutions experts work across contemporary platforms and technologies to develop the perfect interface for your business proposition.
We understand how important it is for you to create brand awareness and generate desired impact for your business.
In the current scenario, your mobile App is one of the initial gateways to your business. We understand how important it is for you to create brand awareness and generate desired impact for your business be it for consumer markets or Enterprise mobility solutions. At Pratham Software (PSI), we understand your perspective and work towards building effective solutions for consistent business growth.
Our Mobility solutions experts work across contemporary platforms and technologies to develop the perfect interface for your business proposition. We have worked across industry domains, understand the nuances and constantly innovate.
We have designed a game tracking app wherein the players and their coaches can track their performance by generating score sheets to analyze and further improvise. Pratham Software (PSI) has designed an app for an advertising conglomerate, which can be used by their clients to reach out to the end users.
We have effectively partnered with an Australian firm to develop self-service payroll application, which authorizes employees to access their pay slips, update leave records and expense statements through a secure online portal. The app is a web based workflow system, which reduces time and efforts of the staff.
Moreover, we have developed mobile application for players in the hospitality domain wherein the customers can easily enquire about the various services, make reservations and explore on their smart phones and tablets.
Pratham Software (PSI) has developed an app for real estate services, which includes all the property information and services. An application available in native languages for individuals to prepare for the theory based driving test. It allows both a learning mode and a test mode in line with the government driving license tests. The user can choose questions based on test topics and refer to the probable answers.
Enabling Startups
Formation, Validation, & Growth
For Startups to move on from the idea and innovation process, they need to think about value generation and creating a viable business model. This requires building a strong and committed team of both developers and business centric minds to create your venture a growing business and capture the value being created.
While there are a lot of organizations and individuals eager to help Startups with an innovative idea or product, there are only a few with the understanding of entrepreneurship, team founding and growing needs of an organization as it grows and its associated challenges.  Our expertise in adding value to startups spans across 17 years and 120+ solutions delivered across Finance, Education, Logistics, and Healthcare verticals. Our associations with these startups go beyond the traditional client and vendor relationships; we have taken numerous innovative decisions to ensure the development in the case of financial shortfalls and invested in the idea based on client's belief and commitment to the cause.
We at PSI have both delivered market leading products and solutions from the ground up and brought to life solution and ideas, which were heading for the graveyard. PSI has been a reliable technology partner for inventive minds seeking resourceful partnerships to tackle their technology handicap and turning it into an advantage to create an innovative solution to resolve our day-to-day problems. Our philosophy has always been inclined towards the role of technology to shape the future and we help startups realize their dreams within their set timelines and budgets with us as partners. These partnerships have been the crux of all successful ventures and have been pivotal to the growth of the associated startups and PSI.
Our approach to begin with starts with identifying the problem the idea is was though towards solving and what can be the best fit to create a mix of technologies to build the solution. The turn of events that follow are as follows:
Proof of Concept (POC) Development
Minimum Viable Product (MVP) Development
UI/UX Services
Technology Consulting & Support
Product Lifecycle Management