News@Pratham Software (PSI)
Successful Completion of Scrum Master Training and Certification @ Pratham Software PSI
July 25, 2018 by PSI
Agile software development methodologies based on iterative development, where requirements and solutions evolve through collaboration between self-organizing cross-functional teams. To consolidate and further promote the Agile processes in a disciplined project management process, a team of 24 software developers at Pratham Software underwent Professional Scrum Master Training cum Certification Program.
Pratham software development process adapts, a leadership philosophy that encourages teamwork, self-organization and accountability, a set of engineering best practices intended to allow for rapid delivery of high-quality software, to clients. Further working along with customer development teams aligning with customer needs to achieve the development objectives.
The certification process has enabled to strengthen and achieve the quality objectives and delivery satisfaction.
Read More
18th Foundation Day Celebrations
January 25, 2018 by PSI
It's important to celebrate the successes, to feel happy about them, but it's equally important to look forward to the next big move. With these thoughts in mind Pratham celebrated its 18th Foundation Day on 10 Jan 2018.
It was on this day in 2000 that Puneet laid the foundation of Pratham Software (PSI) with a vision to create a glocal software services company based on innovation and invention to offer our customers the complete value in terms of service and quality.
The moment was ripe for the entire Pratham family to come together and celebrate the completion of 17 years and beginning of the 18th year; and we all did it in style. It began with the lamp lighting and Ganesh Vandana. The PSI journey movie reflected how the company grew from a meagre 10 people to a strong team with members from diverse backgrounds.
One of the key aspects of the celebration was to honour and award the employees for the relentless effort and contribution in Pratham's progress. An emotional moment for the Prathamities, as they saw that hard work and commitment is being recognised on this day. Happiness manifested in both – smiles and tears, as they came to the dais to receive their trophies.
While cutting a cake to celebrate any special day is not a unique thing, this was really a big thing for all Prathamities. The multi-talented employees took the centre stage as the cultural programmes began. The atmosphere turned electric with the array of team performances and enthralled us with their dazzling singing, dancing and drama acts.
As the curtains were drawn on the Foundation Day celebrations, the sense of achievement, teamwork and commitment went up several notches up in all our hearts. The Prathamities vow to keep raising the bar, and scaling new heights for ourselves and company.
Read More
SPARDHA 2017: Sports and Wellness Week @ Pratham Software
September 28, 2017 by PSI
Sports teaches you character, it teaches you to play by the rules, it teaches you to know what it feels like to win and lose, it teaches you about life.
We at Pratham Software, constantly try to create a healthy working environment and have been organizing our annual sports week to keep everyone on their toes on the health front. A string of field and indoor sports events took place during this time featuring employees allocated in four groups named Aqua, Aries, Ignis and Terra.
The event started with traditional lamp lighting and Captain's oath taking ceremony. The employees participated and played Carrom, Table Tennis, Chess, Scrabble, Sudoku, Ludo and Kho-Kho games. They not just competed for individual glory in games but also worked towards overall victory of their teams. The employees showed their enthusiasm and enjoyed the games.
The game coordinators, umpires, volunteers, and coordinating teams made the event a grand success. The two week long sports week helped employees revisit their childhood and experience all the excitement of school sports with a difference!
Read More
Pratham Software Pvt. Ltd. upgrades to ISO 9001:2015
April 21, 2017 by PSI
In our endeavor to adopt industry best practices in the area of quality and security, we at Pratham Software (PSI) have recently upgraded our ISO 9001 Quality Management System (QMS) certification from version 2008 to the latest version 2015. TÜV-SÜD South Asia has granted this certification, which is one of the largest and most reputed independent inspection, certification and testing organizations in the world.
In addition, we have blended our QMS with Information Security Management System (ISMS) to form a rich Management System (MS). This upgrade marks an important milestone towards making Pratham Software a quality and safe destination for solutions and services outsourcing. As a result, we enhance our customers' confidence in our management system.
17 Years of Excellence: Empowering Organizations Globally with Effective, Inspired, and Innovative Solutions
January 11, 2017 by PSI
Foundation day is a day where we celebrate our past, present, and future together. PSI celebrated its 17th foundation day on 10 Jan'2017. The event started with Deep Prajvalan and Ganesh Vandana to gather the almighty's blessings. Next, the students of Pratham Shiksha (An NGO run by PSI) performed on Vande Mataram, a patriotic dance act.
We had kids' talent show, musical performances, drama and dance items focusing on the current societal issues. A video on the 17 wonderful years of Pratham Software (PSI) and the team memories was presented.
Our support staff was honored for their dedication and service throughout the year. The evening concluded with commitment and performance awards for the well deserving employees.
The 17th Foundation Day was indisputably a big hit with persistent efforts and enthusiasm from all employees and their families.
Read More
PSI Partners with Instilligent in New Zealand
November 17, 2016 by PSI
Instilligent has partnered with Pratham Software (PSI), headquartered in the US, with development offices in India. This partnership has significantly extended Instilligent's software delivery and scaling capabilities.
Instilligent will be leveraging PSI's experience and vast team close to 300 people with expertise in contemporary technology streams like Microsoft (Major Capabilities), Enterprise Mobility, Java, LAMP stack and Independent Testing. Instilligent will provide New Zealand-based, native English account management support covering the APAC and US time zones.
As a joint venture, Instilligent-PSI will deliver a comprehensive range of IT and programming services at a highly competitive price, leveraging offshore resources of PSI and Instilligent's  local New Zealand and Asia Pacific experience in understanding client business requirements, programme management and cultural understanding of delivery expectations.
Instilligent-PSI will offer the following services:
Software Product Engineering
Application Development & Maintenance
Software Testing
Business Process Management
Content Engineering
Mobility Solutions
In this era of global economy, outsourcing has become an integral part of every leading organization, and is now a core business strategy for a competitive cost advantage.
'It is important that values are shared to ensure that there is alignment when it comes time to deliver.  Instilligent-PSI understands and addresses this problem by ensuring you have native English speaking account managers, based in New Zealand to ensure local support and time-zone coverage,' says Instilligent founder, Marc Armstrong.
We understand the importance of careful and proactive planning of your outsourcing strategy and, as a result, we are NOT focused on immediate short term savings, instead we pride ourselves in establishing long-term win-win relationships with our clients. We can guide and consult and can formulate your outsourcing strategies to ensure you benefit in the long run.
'Our focus for our clients is to achieve agility, scalability, speed, pricing transparency and predictable outcomes for their IT spending and outsourcing initiatives.' says Marc Armstrong, Founder of Instilligent.
Instilligent-PSI's diverse technological expertise in programming languages, databases, servers and engineering tools mean that we can expand and pivot with your business.
About Instilligent
Instilligent is an offshore software development resource provider, focusing on enabling scalability and cost effective software delivery for global businesses. We pride ourselves in enabling rapid growth for our customers. Our team of core account management specialists, experienced in programme and project management, are located in New Zealand to provide native English speakers in your time zone.
With our experience in project, account management and software development in Asia, Instilligent offers exceptional client services and makes outsourcing of software development much more accessible and responsive.
We firmly believe in going that extra mile for the customer. This attitude of service and a belief that the customer is always right is a part of our DNA. A commitment to quality and well-established workflows enable us to consistently deliver robust solutions that effectively meet customer requirements. With every project undertaken we endeavour to create a long relationship with our customer based on the tangible value delivered. To know more about the services offered by Instilligent, please refer to http://www.instilligent.com/
About Pratham Software (PSI)
Established in the year 2000, Pratham Software (PSI) is a global software solutions provider delivering across various segments such as OPD, BPM, AMD, ISV, Web & Multimedia, Testing, and Consulting Services. With offices in the USA, Canada, Germany and a development centre in India, we serve a highly diverse customer base from start-ups to Fortune 500 companies across industry and technology domains. To know more about the services offered by PSI, please refer to http://www.thepsi.com/
Read More
Xamarin Dev Days held @ Pratham Software
October 17, 2016 by PSI
Xamarin Dev Days are organised worldwide to provide attendees with a hands-on learning experience about the emerging technology i.e. Xamarin. The purpose is to have a better understanding of how to build, test, and monitor native iOS, Android, and Windows apps with Xamarin.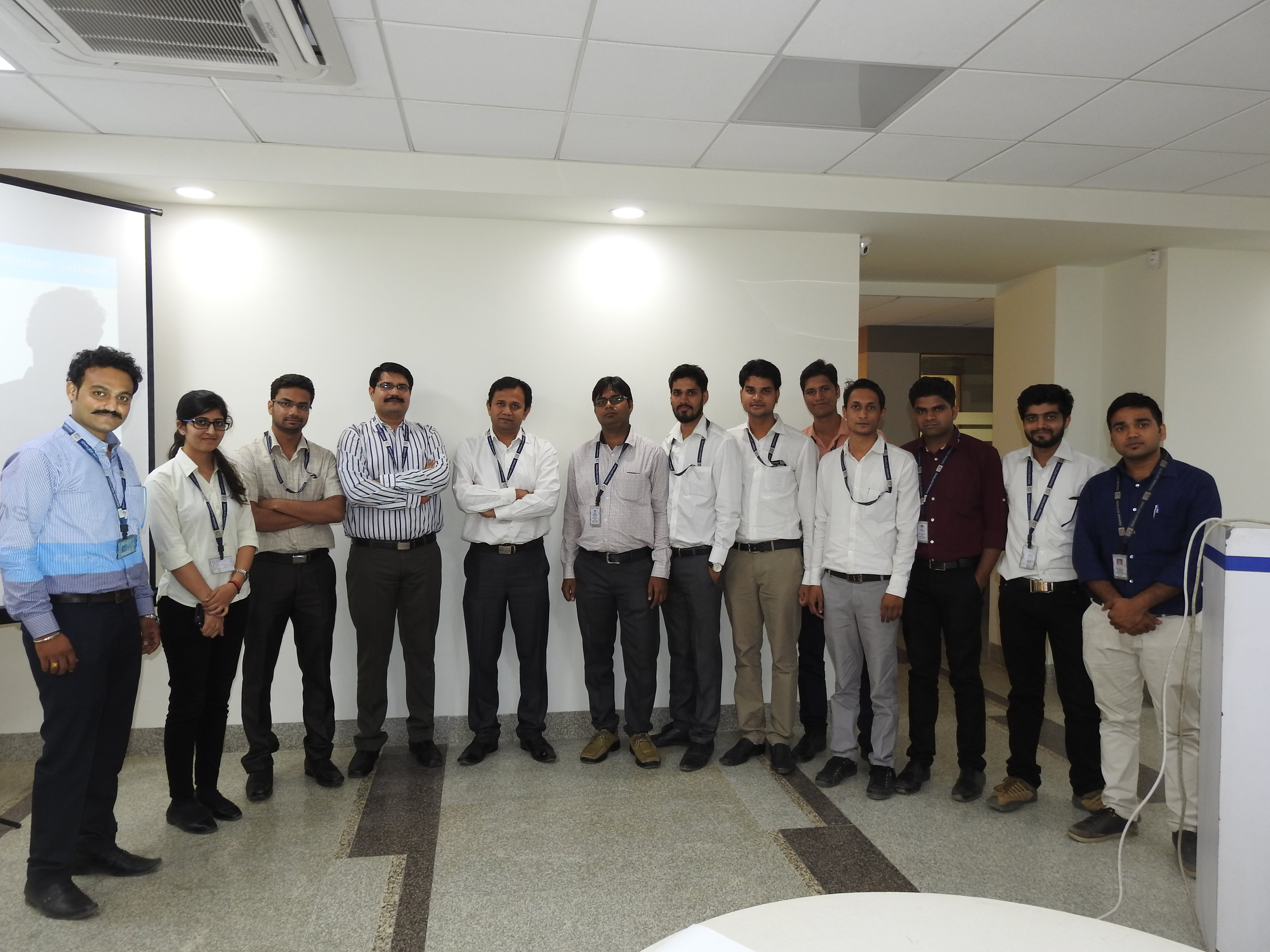 The Xamarin Dev Days Jaipur event was held on 15 October 2016, at Pratham Software's Sitapura premises.
The event brought together participants from across the country who work on Xamarin Platform or wish to absorb the tech platform. The speakers spoke about the Native iOS & Android development with Xamarin, integration with Visual Studio, Cross Platform UI with Xamarin.Forms, Xamarin with Azure and other benefits of utilizing it over native platforms.
Apart from this the Pratham Software showcased its expertise in the Xamarin through the various projects undertaken and successfully delivered. The second half of the day had hands-on lab wherein the participants not just learned about the platform but also showcased their skillsets.
The day provided an in-depth insight into Xamarin and an experience with utmost value for the participants and organisation.
Read More
Kids Fun Day Celebrated @ Pratham Software (PSI)
June 9, 2016 by PSI
This Saturday was a different day at work. We had invited little guests to the office.
All the employees had brought their children to the workplace. The little wonders were welcomed with presents and confetti. The kids were curious to know what exactly their parents are doing at work, how the company works, how's the office culture etc. They were quite excited about how the day will unfold.
Numerous activities were lined up to engage the kids and make them comfortable. They had an aerobics session to start with, next came the visit to the premises wherein they enthusiastically looked for their parent's workplace. They were greeted with candies and chocolates at the workstations.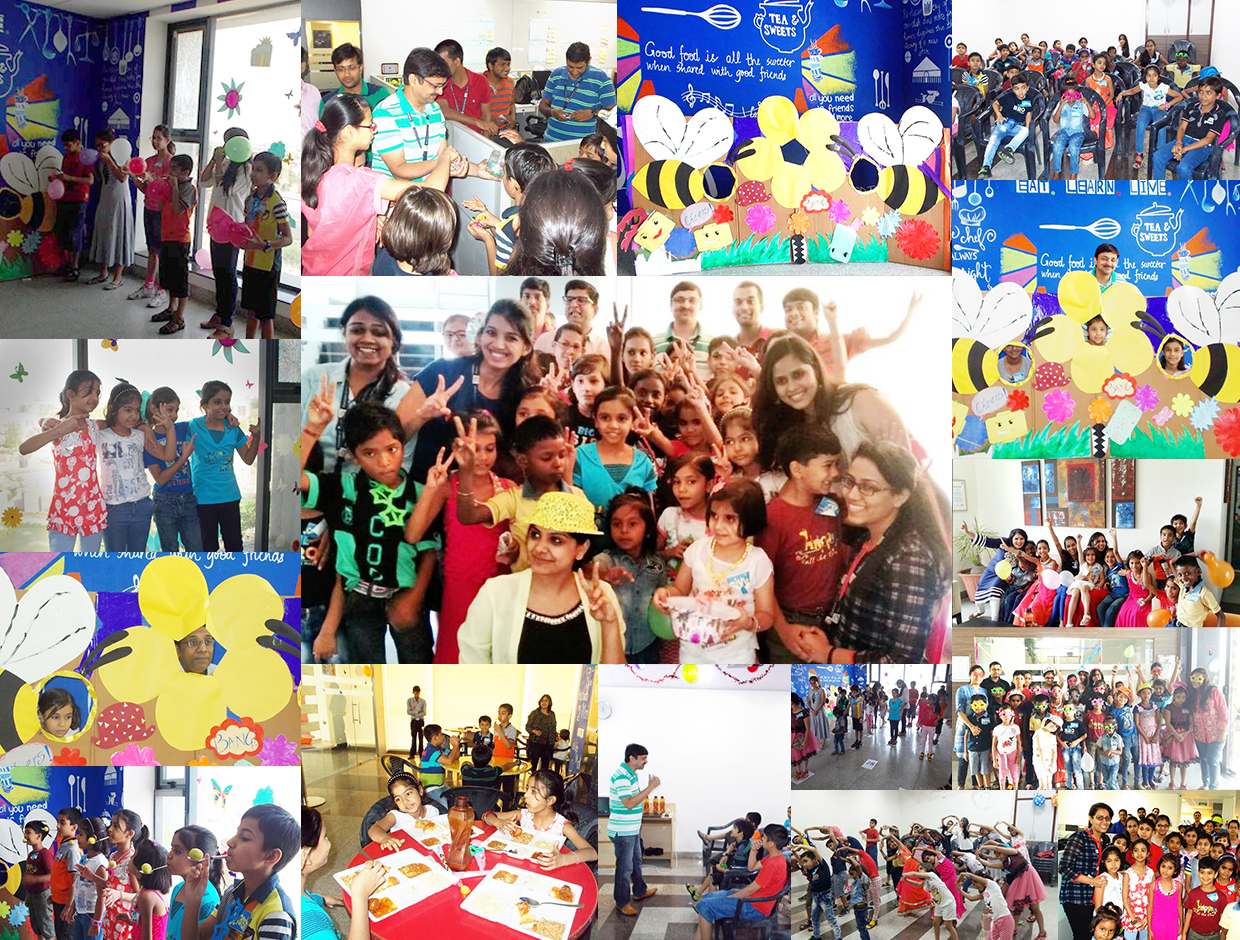 The different games were organised for kids be it lemon race or book race or balloon race. In the afternoon, kids watched some movies. A card making competition was held, the children keenly participated and made beautiful cards for their parents. Next, the kids wore their dancing shoes and tapped to peppy numbers.
A photo booth was prearranged to capture the moments with the kids. The mouth-watering delicacies were served to the visitors. The little guests were gifted with some lovely stationery items and other favors.
Energy & enthusiasm of our little wonders made the environment happening. And Yes! They loved "Their Mum/Dad's working place".
Read More
Pratham Software Pvt. Ltd. achieves ISO/IEC 27001:2013
April 13, 2016 by PSI
With rigorous audit over a span of a week, Pratham Software Pvt. Ltd. has been awarded ISO/IEC 27001:2013 certification, the Information Security Management Standard.
By achieving this globally recognized security standards of ISO/IEC 27001:2013, Pratham Software Pvt. Ltd. has demonstrated its commitment to adopt best data security practices to safeguard data of its growing client base.
ISO/IEC 27001:2013 is an internationally recognized Information Security Management Standard (ISMS), which ensures that organizations apply a framework to business processes to help identify, manage and reduce risks to information security, and considers not only IT operations but all business operations. ISO 27001 certification achievement demonstrates an organization's ability to meet compliance requirements, which in turn increases customer satisfaction.
Pratham Software has integrated ISO 27001:2013 along with the existing ISO 9001: 2008 quality management standards. This certification is granted by TÜV-SÜD South Asia, which is one of the largest and most reputed independent inspection, certification and testing organizations in the world.
Read More
NASSCOM Chairman visits Pratham Software (PSI) premises
April 8, 2016 by PSI
NASSCOM CEO Thought Leadership session in association with TiE Rajasthan was organized on March 29, 2016 at Marriott Hotel, Jaipur.
The event was presided by NASSCOM Chairman, B. V. R. Mohan Reddy. Mr. Reddy's session addressed a highly critical topic on 'How entrepreneurs can steadily scale up their business?' The session was specifically for entrepreneurs and CEO's who want to break free and scale up.
Additionally, Mr Reddy also visited the Pratham Software (PSI) development centre premises at Sitapura, Jaipur during his visit. He interacted with the management and shared his views on the software industry and future trends. He went on to discuss the value chain analysis applicable for the IT industry and his plans to achieve NASSCOM's vision for the IT industry. He believes that right attitude is more important than aptitude and ability to succeed in any industry.
The session proved to be truly insightful & enhancing for the employees and management.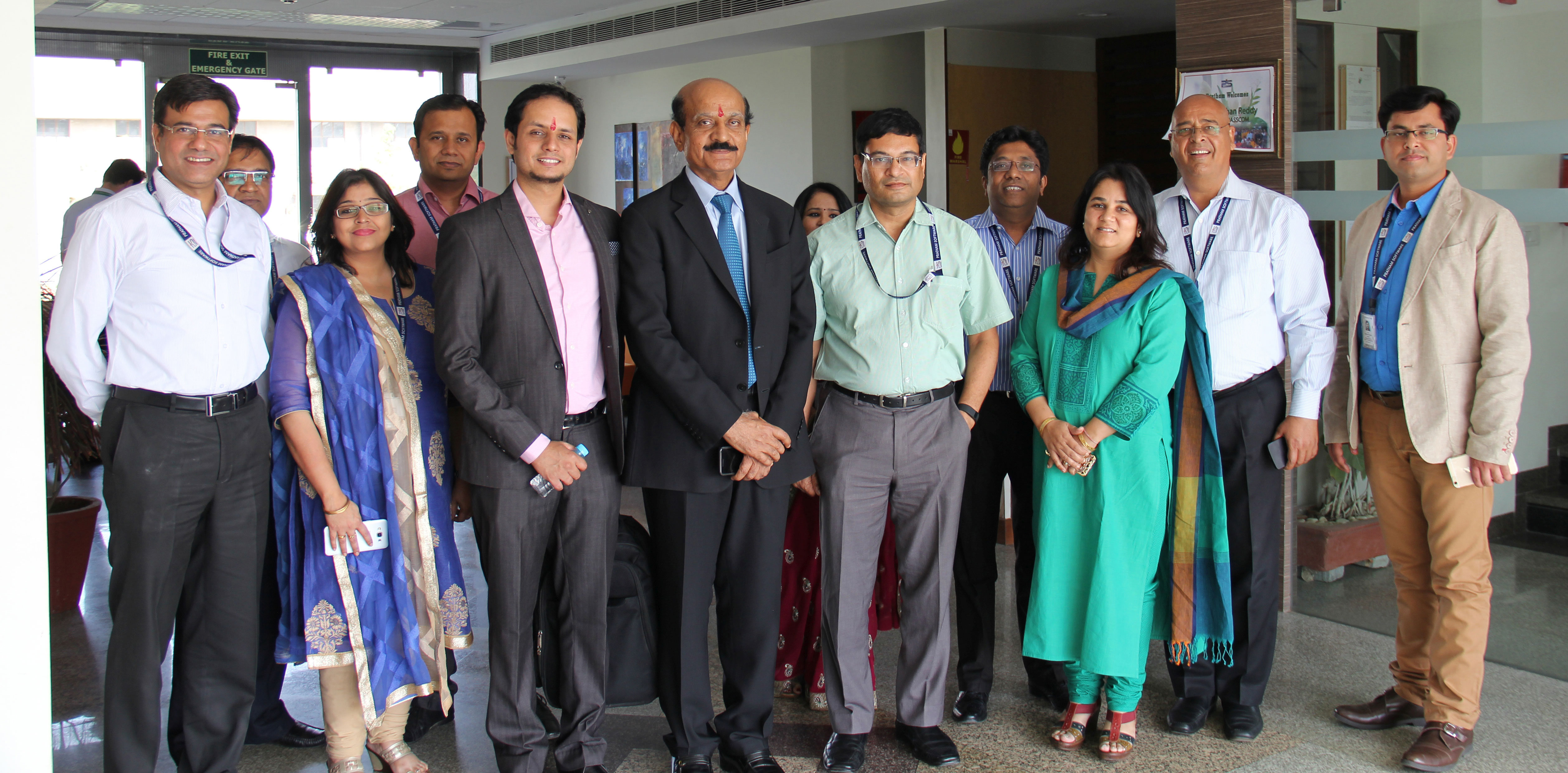 Moreover, Pratham Software (PSI) holds a rewarding relationship with NASSCOM and has benefited from various NASSCOM initiatives at various levels; awareness, branding, endorsement, business development and knowledge sharing.
Read More