How Salesforce Vaccine Cloud can boost Global COVID-19 Vaccination Program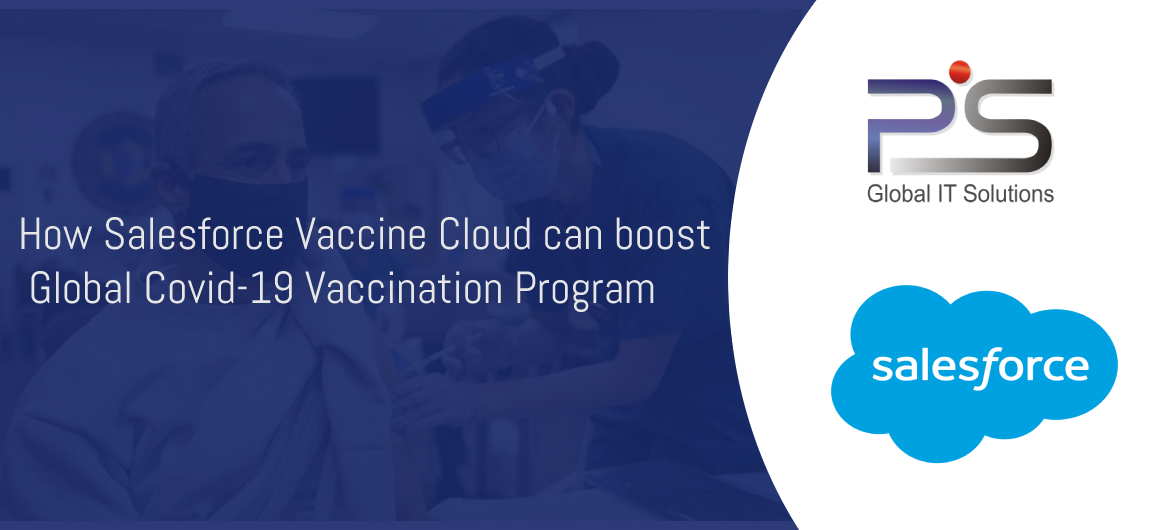 In the wake of Covid-19, many companies came up with various ways and methods to help their employees safeguard their and their family's health. With numerous vaccines rolling out and hundreds of people wanting to get vaccinated, every country is establishing vaccination drives to help people get a jab of good health.
However, not all countries have the proper infrastructure or the technology to handle the hordes of people or to manage the vaccination programs. Thus, Salesforce, the leader in CRM, came up with a stellar way to handle the vaccination drives by introducing the Salesforce vaccine cloud.
The Salesforce vaccine cloud focuses on helping the governments, healthcare organizations, businesses, and nonprofits organizations to create, build and manage vaccine programs at large with efficiency. Backed by the powerful Salesforce Customer 360 platform, the businesses and organizations will also have access to mobility solutions, bots, analytics, integration capabilities, etc. That will prove beneficial in managing the vaccination drives.
How Helpful is the Salesforce Vaccine Cloud for Your Business?
Salesforce's Vaccine Cloud quickly scales up Vaccine Cloud for the Customer 360-degree platform in the following ways:
Manage Vaccination Program Effectively
Simplify Vaccine Administration
Access Vaccine Education Resources

Manage Vaccination Program Effectively
The salesforce vaccine cloud offers a practical and secure end-to-end vaccine management platform that can assist healthcare organizations and personnel in planning and managing vaccination drives to reach many people.
A well-managed vaccination platform can help you track the inventory, monitor the outcomes, communicate with the public and educate them about the vaccination. Additionally, the salesforce vaccine cloud will also help businesses implement digital vaccination solutions quickly and get comprehensive data about the vaccination campaigns.
Simplify Vaccine Administration
With many people becoming aware of the importance of the vaccine, it has become imperative to come up with solutions that can Simplify Vaccine Administration. A scalable workflow with Salesforce Vaccine Cloud helps connect people with thousands of vaccination sites and simplifies vaccine administration across various sites. It brings together all the sites in one cohesive platform to manage inventory, dose scheduling, patient appointment, and staff training.
The salesforce vaccine cloud integrates within two weeks and operates on repeatable administration workflows. Moreover, simplified vaccine administration software allows in speeding up the vaccination process by using numerous software features that come with the vaccine cloud.
Access Vaccine Education Resources
Despite vaccines being rolled out, many people are still unaware of the benefits and the importance of injection. Apart from managing the resources, the salesforce vaccine cloud also offers access to various vaccine education resources to help you spread the word about the vaccines and their importance.
Vaccine Cloud for businesses can help them verify health credentials, make informed decisions based on public health data, and communicate within the organization for better results. The access to vaccine education resources also allows quick sharing of the health and safety updates with the appropriate groups across all channels for a better understanding of the vaccination programs.
Now let's take a look at,
How did Salesforce Vaccine Cloud work for Healthcare Providers?
For a very long time, healthcare providers and organizations have been struggling with managing vaccination drives. Due to the lack of technology and well-managed software, it was becoming tedious for organizations to keep a check on the data.
Deploying a Salesforce vaccine Cloud helps in,
Obtaining a 360-degree View of Vaccine Management
A unified platform like salesforce vaccine cloud gives a complete view of vaccine management across various sites and organizations. This helps in eliminating the discrepancy and makes room for managed vaccine drives.
Forecasting Precisely a Demand for Mass Vaccination
With the salesforce vaccine cloud, businesses can easily predict the vaccine demand and maintain the inventory to meet the upcoming needs of vaccination.
Providing Centralized Scheduling
A well-managed software running on the cloud will provide centralized scheduling, thereby removing the redundancy and miscommunication across the departments.
Preparing for Vaccine Distribution
The healthcare providers can prepare themselves for smooth vaccine distribution to a large number of people prior to the day of vaccination to avoid any hindrances.
Monitoring Post-Vaccination Outcome
It is highly essential to keep a check on the after-effects of vaccines on various individuals to prepare and educate people about the same.
Building Community Engagement
Salesforce vaccine cloud works in a comprehensive environment and helps build community engagement by bringing people together from various sites to one platform.

Pratham Software as Salesforce Partner
Salesforce vaccine cloud is speeding up the vaccination process, and many of the businesses have already deployed the cloud platform to help drive the Covid vaccination.
We, at Pratham software, understand the importance of the vaccination cloud platform and have worked with our vetted experts to make the process of salesforce vaccine cloud implementation smoother and faster. With our years of expertise in salesforce implementation services and solution integration, we ensure that this newest technology helps you drive growth while being beneficial for your business.
Talk to us about the salesforce vaccine cloud, and we will be happy to help you build the software from scratch as per your business needs.