Know Everything About HIPAA Compliant Mobile App Development

The healthcare industry is one of the most flourishing industries and is a vital pillar of the world economy. In the light of Covid-19, many healthcare institutes, web-based support platforms and mobile healthcare apps have come up.   
With the vast database and millions of users, it becomes tedious yet imperative to maintain the confidentiality of the user. To ensure that the user's privacy is not compromised, HIPAA compliant mobile apps are now the new trend.  
With the HIPAA compliant mobile app, the users and the developers can be sure of the security and standard operating procedure.  
Let's talk about what HIPAA act is and everything you need to know about developing HIPAA compliant mobile apps.  
What is the HIPAA Act? 
HIPAA refers to the Health Insurance Portability and Accountability Act passed by Congress in 1996. HIPAA aims to secure the PHI (Personal Health Information) from unlawful and unauthorized exposure to the public. By saying so, we can guess that without HIPAA, our healthcare system would collapse as the confidential information of millions of people would be exposed to the public, creating chaos.  
 PHI is the Protected Health Information that gives the patients an array of rights concerning that information. The HIPAA Privacy Rule provides federal protections for personal health information.  
Why is HIPAA Compliance Important? 
Since HIPAA applies to everyone, including patients, hospitals and intuitions, the developers need to understand HIPAA. With everything going mobile and the healthcare applications becoming the new trend, all the apps must be made HIPAA compliant to ensure that the safety of both patients and developers remains uncompromised.   
HIPAA for Patients 
Under HIPAA compliance, the patient's information cannot be shared without the patient's consent and allows only the healthcare professional to share the information with the stakeholders to attend the healthcare operations.  

 

The patient's information must remain safe with the billing professionals and prescription vendors.  

 

HIPAA allows seamless data sharing among multiple healthcare institutions by giving complete rights to the patients over their medical details. 

 
HIPAA for Hospitals 
The hospitals need to follow the HIPAA compliance rules as there are hefty fines imposed on the hospitals if they do not comply with HIPAA. A single data breach case can amount to $100 to $50,000 in fine.  
Now that you are aware of the importance of HIPAA for the patients and hospitals, it is time that we talk about how to develop HIPAA compliant mobile apps.  
How to Develop HIPAA Compliant Mobile Apps? 
Before developing a HIPAA compliant mobile application for the users, identifying the information you need should be your first step. You must be aware of the information you will store and transfer through the healthcare mobile app.  
Most of the HIPAA compliant applications store or transfer two types of information.  
PHI (Protected Health Information) 
The PHI includes bills from a healthcare professional, emails, test results, scans, and other types of medical information.  
CHI (Consumer Health Information) 
It deals with the everyday data that you get from a fitness tracker. This information includes heart rate, calories burnt, SpO2 and the number of steps.  
Some of the examples of HIPAA compliant healthcare apps are:
On-demand and medication apps like Netmeds 

 

Condition-based healthcare apps 

 
Examples of apps that do are not subjected to HIPAA  
Workout apps 

 

Diet apps

Fitness apps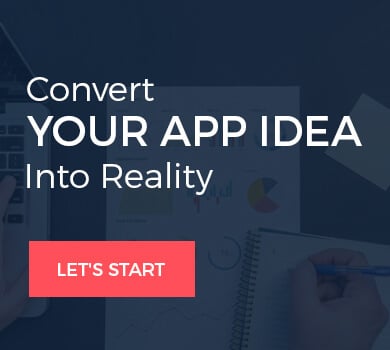 Steps to Create HIPAA Compliant Apps 
HIPAA compliant app development is necessary if you are trying to roll out an app used in the healthcare industry. It is wise to have a stepwise approach for the app development as it will help bring about an app that works the best for you and the users.   
Here are a few steps that you should follow while developing a HIPAA compliant app:  
Step 1: Hiring A HIPAA Compliant Mobile App Developers  
Suppose you are unaware or are vaguely aware of the HIPAA requirements. In that case, it is better to work with HIPAA compliant mobile app development experts who can help you develop an app. They can help you with consultation and offer expert advice when it comes to developing  
Step 2: Evaluate the Data of the Application  
As mentioned earlier, not all applications need to be HIPAA compliant. Analyze the data you will collect from your users and check whether the PHI data needs HIPAA compliance and security.  
Step 3: Encrypting the Transferred & Stored Data  
Ensure that you have security practices in place to keep patients' confidential information safe and that there are no security breaches. You can additionally encrypt your stored data to secure it from getting leaked.  
Step 4: Testing and Maintaining the App  
To maintain the app's integrity, you must always test the application dynamically and statistically, especially after every upgrade. This will help you in application maintenance and will keep your app safe.
Key Features of a HIPAA Compliant Applications 
When developing a healthcare application, you must understand that every application serves a different need and that the features can significantly vary. However, here are some of the standard features for all healthcare applications.   
User Log in: There should be an option for easy user login, and to make it secure, the feature for OTP can be added.   
Application Access: While dealing with healthcare apps, it is only natural to face emergency cases. Thus, in such cases, it is crucial to have a provision that can address such issues at the earliest.  
Application Encryption: While using services like Google Cloud or AWS, you automatically get end to end encryption as it runs on TLS (Transport Layer Security) 1.2. However, ensure that all the data being transferred should be encrypted.  

The Steps That Pratham Software Follows for Developing a HIPAA Compliant Application 
Being your ideal HIPAA compliant app development partner, Pratham Software undertakes all the necessary protocols that help us deliver a stellar healthcare app for you.  
Transport Encryption 
We follow HTTP protocols and SSL for data encryptions during the transmission of data. When the data is received, it is first encrypted on the sender's front and then decrypted on the receiver's side.  
Backup 
We understand the importance of data protection, and thus, we partner with the best hosting providers that offer recovery and backup services that ensure the data is not lost.  
Authorization 
Our expert app developers at Pratham Software design your HIPAA compliant mobile app that is authorized and is well protected. We undertake the access control while continuously monitoring them, offering secure logins that the authorized individual can only access.  
Integrity 
We ensure that the infrastructure allows the collection, storage, and transfer of information safely that cannot be altered intentionally or accidentally.  
Storage Encryption 
We ensure that all the information, including the data, files and logs, is only available to the authorized personnel through our vigorous encryption algorithms and keys.   
Disposal of Data 
Disposal of data is as important as its storage and collection. Thus, we make sure that all our backed up, and archived data is deleted permanently couldn't be retrieved unless absolutely necessary.  
Conclusion 
In the wake of the Covid-19 pandemic, all the entrepreneurs and investors have realized the importance of the healthcare sector and the need for HIPAA compliant mobile app development. We are in a phase where digital transformation will govern the healthcare sector, and HIPAA compliance will be the prime concern.   
If you also wish to get your HIPAA compliant mobile app development, this is the right time to contact the mobile app development experts. At Pratham Software, you will get a team of vetted developers who know all about HIPAA compliance and have developed exceptional apps for the healthcare sector for years.  
Get in touch with us today and get your HIPAA compliant, successful healthcare application today.