Salesforce Customer Retention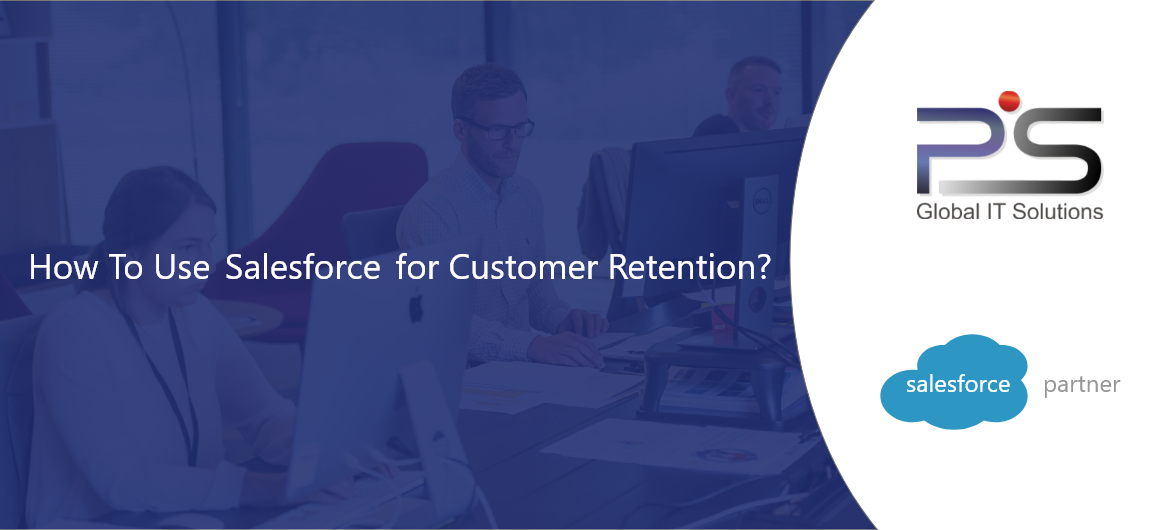 How To Use Salesforce for Customer Retention?
Customer retention – as the name suggests – refers to the rate at which customers remain with the organization in a specific time frame. This metric is a key data point for all firms across industries in B2B and B2C firms. It is also usually referred to as the 'churn rate.' The lower the churn, the better for the company as it indicates more loyal customers and implied business success.
At the heart of the performance of every business lies one simple core question – does it have enough clients? This is precisely why all business decisions have an aim of revenue increments and bringing in new clients – a huge part of this, however, is taking care of the clients the organisation already has. This is imperative for all firms; some businesses even consider retention to be a higher priority than acquiring as, according to data, existing clients are estimated to bring in about 30% more revenue than newer ones.
The lack of customer retention or a high churn rate is a frequently faced business challenge. This can be attributed to several reasons like poor customer service, lack of feedback, or irregular customer interactions. The loss of existing business can lead to declining ROI and an implied decrease in business growth. A retained customer is always an asset and CRM platforms like Salesforce can help with managing churn rate by various methods.
There are several things you need to keep in mind while trying to optimize to lower your business's churn rate. Some of these are setting realistic expectations and constantly delivering on them, facilitating them in their end-to-end journey when it comes to their service, and using the client data effectively to optimize for better churn. 
All of this and more can be done by using and implementing Salesforce in the proper manner, here are the most important ways how using it can change your business – 
USING SALESFORCE INTEGRATIONS – Getting customer data in one place in order to analyse and draw conclusions from it is vital for improvements in retention. Salesforce has made the archaic practice of various teams working in a vacuum by introducing its integrations feature. Various teams of a project can be working on multiple different software like HubSpot and Zendesk. However, they can all streamline the project and ensure seamless communication by integrating their projects onto Salesforce.
PERSONALISING FROM CUSTOMER DATA – Over years/months of working with a customer, the organisation is bound to gather a large amount of data from the firm. When this data is uploaded onto Salesforce, you can take control of the business-customer relationship by using the data to personalise and optimise your messaging with that of the customers, thus increasing the likelihood of retention as a function of satisfaction.
RE-ENGAGING WITH DORMANT CUSTOMERS – Salesforce can help you check the list of customers who have been dormant or inactive in their use of your service or bringing new business/projects. You can use this data to optimise for those accounts and even find service bottlenecks which can help avoid such situations. You can target and prioritise engaging and active clients while also strategizing for the other end of the spectrum.
CUSTOMER SERVICE – Salesforce for customer retention can allow you to also use tailor-made platforms like the Service Cloud, which can help firms access and address customer grievances, requests, and complaints. The service reps can also reach out to the existing clientele with more purpose and targeted suggestions using Service Cloud.  The Implementation Service cloud can also help with post-sales communications by giving a planned and coordinated client benefit stage for the same purpose.
PRIORITISING CUSTOMER INTERACTION – On Salesforce it is possible to see customer activity and tracking their interaction can help businesses go a long way by avoiding the loss of those customers. This process can also be automated such that a list of these customers can be delivered to you on a periodical basis, allowing you to check up on them using communication channels. Increasing customer satisfaction is a sure-fire way to up your customer retention; you can use Salesforce and personalise solutions or enhance customer loyalty in order to retain customers and boost revenue.
WAVE ANALYTICS – Delayed administrations and poor communication are often the most common reasons why existing clientele leaves. Salesforce Wave Analytics is a service that can allow you to understand client behaviour better to draw on more specific points of information and pinpoint why there is a high churn rate.
SOCIAL MEDIA – Most organisations have several social media platforms they communicate on, so giving prompt responses from each one can be quite a task. For this very issue, Salesforce gives a company the option to manage all their social media accounts from one platform. From a single page, it is possible to respond to all customer requests, complaints, and queries, thus saving time and manpower on individual replies. This also implies an element of customer satisfaction as patrons are more often than not impressed by promptness.
Customer retention is arguable the least expensive way to impact a firm's revenue, however, in an ecosystem with so many alternatives, it is even more difficult for customers to stick to one provider due to the temptation. It is imperative for firms to understand and harness the power of data to personalise the experiences their customers have and add value by listening to their needs. 
In conclusion, the churn rate and customer retention metric are vital to surviving in the cut-throat competition in most industries. Salesforce can prove to be a one-stop solution to retain existing customers with minimal effort and time.