Why & How to Hire an Offshore Software Development Team for your Business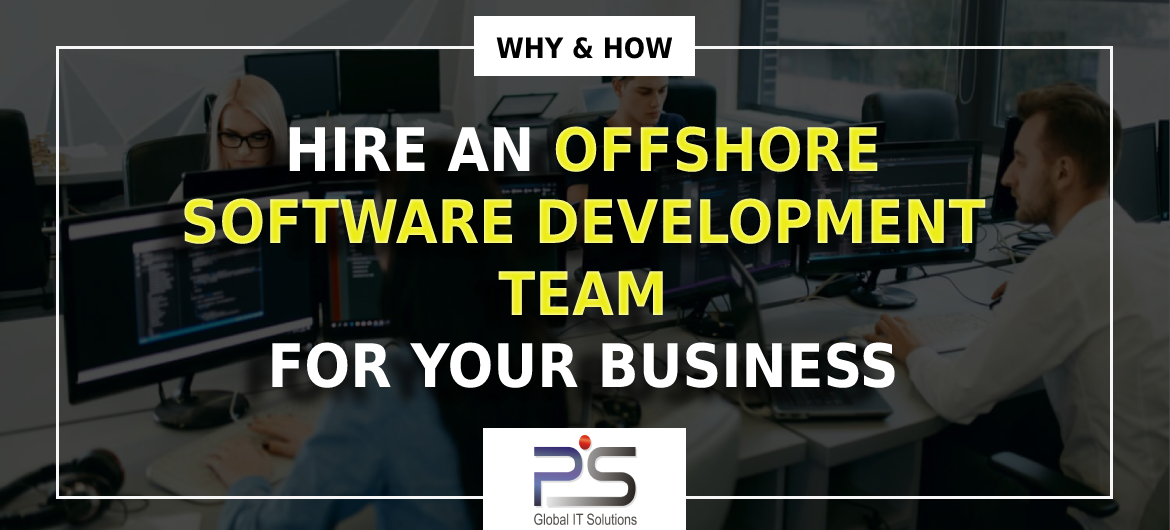 Good software development is the need of every business, but it can be challenging. However, with the right Offshore development company, you can sail through the whole process of development.
Although, many businesses strive to hire an offshore software development team with a well-managed team of skilled professionals who can easily understand their business needs. But the question arises, where to start looking for a managed service provider and how to find the right team?
This blog answers all your offshore hiring queries so that you can choose the team that suits your and your business needs.
Why Hire an Offshore Software Development Team? 
If your business requires robust software, then hiring an offshore development team is your wisest decision. However, setting up an in-house software development team is challenging as it requires time, effort and occupies the workforce in software development. This is one of the reasons why so many businesses hire offshore developers to fulfill their software development needs and leave their in-house team to focus on their core business functions.    
Apart from the reasons mentioned above, there are a few more reasons why hiring offshore developers will be beneficial. 
It's a Cost-effective Software Development Strategy
Hiring offshore developers will be a reduced cost and be a cost-effective option compared to setting up an in-house development team.  
Increased Productivity and Save Time
Hiring an offshore development company will require to you get in touch with a team who will work dedicatedly on your project and offers your project undivided attention to complete it on time so that you will get more free time to do your other important tasks.
More Talent than you would find Onsite

 
Hiring an offshore development team means finding the best developers from a talented pool that wouldn't have been possible otherwise.
Hiring a team of offshore developers means having complete control over the hiring process, time, and hiring period according to your business needs.  
If you want a hassle-free work and development team, getting in touch with an offshore development company will be an ideal choice as they will set up a team dedicated to your project and you will get a pleasant experience of software development.

Hiring 

O

ffshore

 

Developers: Where to Start?
To have successful project development, you cannot jump right into the market and hire a development company. Before signing the deal with an offshore development company, you need to chalk out a plan that will work well for your business.   
To give you a head start, here are some of the steps that you must follow to kick-start your process of hiring an offshore development team that will offer you a successful development.
Define your Business Goals 
The first and foremost step is to define a business goal that will include your business requirement and the client needs to get a development that will fulfill your clients and your business requirements.
Evaluate the Skill Set for the Project
The key ingredient of the success of your software is the technology and the skillset you choose for the development of your software. Thus, define the skills and the workforce you need for software development.
Before proceeding with the development, ensure that you have a fixed budget for the development as it will help you in defining the extent of your project and will help you have a cost-effective project development.
C

ollect Information About Offshore Location

s
Study the market and the location of the developers thoroughly before finalizing the offshore development team. This will help you in comparing various offshore developers who can choose the best for your business. 
Offshore Software Development Challenges to Keep in Mind
As mentioned earlier, software development is not easy; many challenges come with project development. However, with the right development team, you can steer clear of the challenges mentioned below and enjoy a seamless project development.
When you hire offshore software developers from a different location, you keep in mind if there are time-zone differences as you need to communicate with your development team throughout the development.
Lack of Face-to-Face Communication 

 
Sometimes it becomes difficult to have a seamless infection with the developers when there is no face-to-face communication. Ensure that you have seamless connectivity that facilitates easy interaction with the developers.  
While hiring offshore developers from a different location, you will probably face cultural differences like language barriers. Make sure that you convey your needs so that your team and your stay on the same page. 

How to Hire Offshore Developers for your Business? 
While moving forward with hiring the developers, defining the development plans is not the only task. You must also know how to hire offshore developers for your business.   
Create a Detailed Job Description

 
Write a detailed description of the job so that the people who come across your requirement know what they are signing up for.  
Find out if the Outsourced Team has a proven Track Record 

 
Before finalizing the team for outsourcing, you know about the last projects delivered and the time taken to deliver the same.  
Ask the Outsourcing Development Company about their Workflow 

 
Ensure that you ask the offshore development company to share their workflow with you before processing the project.  
Reject the Cheapest Quotes 

 
Do not opt for the companies that will offer you development at the price of peanuts as they may have too many hidden costs and might lack the experience to deliver you the quality you need.  
Find a Good Project Management Tool
Your job doesn't end at just hiring an offshore team. You should also have a project management tool that will help you manage the software development team.  
Make Sure that you have Access to the Latest Work Update
While your project is in progress, ensure that you stay in the loop of your project's progress and have an idea about all the development steps.  
Who can you hire with Pratham Software? 
Now that you know about the benefits and the steps of hiring developers and are looking forward to hiring the software developers, then you're in the right place!  
We at Pratham software set up a team of qualified developers to use all the essential tools and the most promising technologies to develop the best software for your project. With a skilled pool of developers, you can enjoy faster and better development for your business needs.  
Our vetted candidates are shortlisted via rigorous process, and we offer you the best matching participants by conducting HR interviews, technical interviews, and technical tests. At Pratham Software, you can hire  
Front-end Development Team  
Back-end Development Team
Full-stack Development Team
Mobile App Development Team  
Salesforce Development Team  
Cloud Engineers  
Quality Assurance Team

Now to answer the most obvious questions,  
Why Hire Offshore Development Team with Pratham Software? 
Pratham Software offers you a team dedicated to your project and will offer you the development that precisely fits your business needs. Apart from that, here are a few reasons to Hire Offshore Development Team from us.  
Broad Choice of Software Developers
You can choose the developers according to their skillset and expertise from our wide array of developers, analysts, and testers who will dedicatedly work on your project   
Diversity of Technical Skills 

 
Our talented pool of developers has developers who have experience across various verticals through their diverse knowledge of technical skills.  
We offer you the most cost-effective quote with no hidden cost and complete transparency so that you can manage your budget accordingly and stay within the same throughout the project,  
Ability to Scale up the Team 

 
Get the team you think will fit right to your development requirements, and we will be happy to scale up the team if you want any changes in the same at any stage of development.  
Good Reviews from Previous Clients 

 
With the highest client retention and customer satisfaction rate in the industry, we have delivered exceptional projects to our previous clients.   
Conclusion 
It will not be an exaggeration to state that finding and hiring a dedicated software development team is challenging, especially when looking for developers globally.  
While hiring, you should be aware of the steps required for a successful hiring strategy and development mentioned in the article above.  
Let Pratham Software be your offshore development company. You can talk to us and hire a team that will offer you a team that will suit your business requirements.  
Get in touch with us now!