Why Outsourcing is Key for Startup Product Development?

The covid-19 pandemic brought the world to a screeching halt, and many businesses resorted to startups and small businesses. With many people coming up with new startup ideas, it is important to stay ahead in the game by providing better and faster services to your customers. This is where outsource product development comes into play!
In a digitally forward world, people are looking forward to digital solutions to everything. It is becoming imperative for small businesses and startups to turn their heads towards robust digital solutions. However, it is not easy to do so with your in-house team and limited resources, but you can enjoy powerful solutions for your business with the right outsource product development.
Talking about the statistics, did you know by 2025, the global IT outsourcing market will be worth $397.6 billion? This is the power that development outsourcing holds.
Suppose you have a vague idea about product development outsourcing. In that case, this content will give you a detailed insight into how outsource product development can affect your business and the key benefits of product outsourcing development.
But first, let's talk about 
How is Outsourcing Important for Product Development?
The holy grail of any business is a robust product development and digital solutions to back your business' productivity. Now, if you are a newbie or a rookie trying to stand out in this already bustling marketplace of enterprises, you need to have software solutions that will not only make your business grow but will also yield a good ROI (return on investment.)
Moreover, if your company has a large setup or lacks an in-house team of software developers, product development outsourcing is the perfect solution for you. The experienced developers can offer you the required project-specific consultation to custom-fit your business and suit all your business requirements.
However, various solutions providers in the market will help you build functional software products, but you should understand the needs of your business and plan accordingly.
Here are some advantages of outsource product development that will be overall beneficial for your business.
Moving on..

What are the Benefits of Product Development Outsourcing?
Opting for product outsourcing development can prove to be a great stepping stone for the growth of your business. Let's talk about some of the critical benefits of Product Development Outsourcing.
1. Cost Saving
When you are a startup and are just starting in a competitive market, saving costs can be burdensome. However, outsourcing software development can be an ideal option to save on extra costs as it allows you to hire from the pool of talent at a price, which suits your budget.
2. Lesser Risk
The market could seem risky for anyone who is thinking about launching your product. Outsourcing plays a vital role in analyzing the market and eliminates the risk of trying something new. Additionally, the outsourcing models are flexible and common, which means the development risk is lower too!
3. Faster Process
When you hire outsource product development team, you get in touch with a dedicated team who will work on your project. This will result in faster development of your project and offer a lesser turnaround time and faster time to market the products.
4. Technical Expertise
If you are looking forward to working with a team of professional developers and an experienced team, product development outsourcing is your best choice. Hire a team of developers with technical expertise across various fields who will work on your project.
5. Free Time for Important Tasks
Product development outsourcing frees up the rest of your in-house team and lets them focus on the bigger picture of your business and high-priority tasks while taking care of all your development needs.

Key steps for you to effectively Outsource Product Development
Choose the Right Vendor
When it comes to outsource product development, it is vital to choose a highly professional development outsource company as the success of your business depends on it. Ensure that you opt for a team with the right set of technical skills that you require for your business needs. Moreover, it would be best to also go for the vendor who will offer your flexible hiring options according to your needs.
Defining The Scope of The Project
Along with choosing the right vendor, it is important to define the project's scope and sign the SLA (service level agreement.) Firstly, you will have to meticulously design the business plan and chalk out the requirements from your business product. Later, you should decide on the development technology for your project. 
Communication
Regular reporting and seamless communication with an outsourcing team are key to a successful outsourcing product development project. Stay in the loop of the remote team and define incentives as and when they achieve their goals to keep them motivated and interested. 
Crucial Points to consider while Outsourcing Product Development

 
Once you are affirmative with moving forward with the product development outsourcing, you should consider a few factors that will affect your project development.
1. The complexity of the Project: Before hiring the outsourcing team, you need to understand the complexity of the project. A thorough understanding of your project and the intricate complexities will help you define a proper development protocol, features, and requirements of your project. 
2. The Technical Requirements: Ensure that the outsource team works on the most advanced and future-proof technologies. You also need to understand that the outsource team must be on the same page as you when it's about the technicalities of your project.
3. Cost Involved in the Project: It is always good to proceed with a budget in mind and adhere to it throughout the development process. This will help you save costs, let you invest accordingly, and eliminate the possibility of fund shortage towards the end of development.
Now that you know the benefits and steps of product outsourcing, you must be looking forward to a company that offers you Outsource Product Development.
Well, we have got you covered,

Let Pratham Software be Your Outsourcing Partner
There is a drastic change in how the world does business, and it is now imperative for enterprises and startups to streamline their processes with the dynamic scenario. Product development outsourcing offers you one of the most effective and efficient ways of development that will help your business align itself with global growth and keep you ahead of your competitors. 
Pratham Software understands your business needs and offers you custom-made solutions that will transform your work processes and make you stand out from the crowd. With our vetted team of developers and professionals for product development, you can enjoy a faster turnaround time, better development quality, and high-quality projects.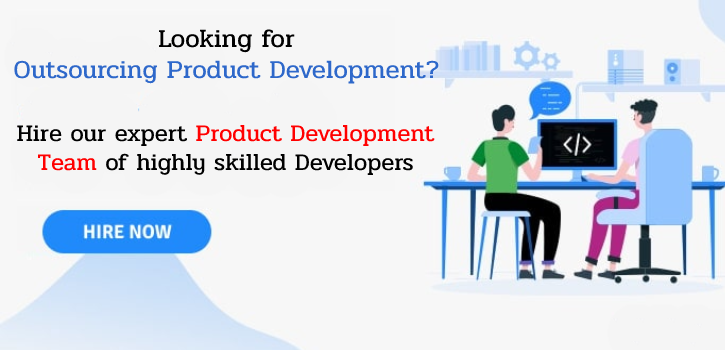 Get in touch with us today and fuel your journey with robust solutions.