Data Storage Technologies: What does the future holds?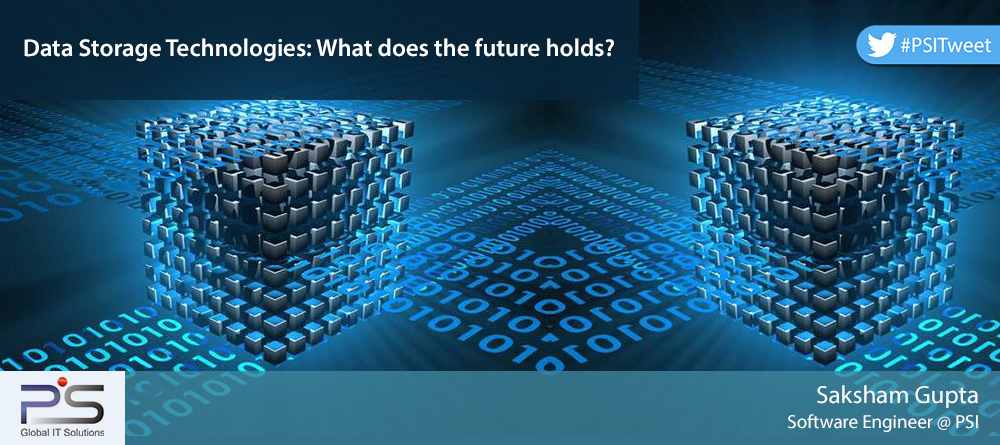 About 2.5 Quintillion Bytes of data is being generated every day, and the figures will continue to grow exponentially in the future. The question arises on how and where to store the colossal sized data? The present modes of SAN, NAS, solid state, RAID are working in conjunction with Big Data and other technologies like NoSQL, MPP (Massive Parallel Processing) while other unconventional methods are being developed in the side-line. The storage and management of the extraordinary amount of data requires innovative ways.
Some of the technologies which have emerged to solve the ever growing storage problems are:
Helium Drives: Helium-filled hard drives have pushed the capacity boundaries of hard drives. They use less power to spin the disks, they run cooler, and they can pack in more disks. Though at $0.068/GB, the technology is still expensive.
Holographic Virtual Disc (HVD): In 2011, GE demonstrated its holographic discs storage, DVD-sized disks with about 500GB storage. These discs have a long lifespan prediction of 30 or more years.
Shingled Magnetic Recording (SMR): Shingled magnetic recording is a storage technique which uses overlapping parallel data tracks instead of parallel tracks as in conventional drives. They allows areal density to be increased by up to 25%.
DNA based Data Storage: Harvard researchers have encoded DNA with digital information. Moreover DNA offers storage density of 2.2 petabytes/gram. Besides saving on space, DNA is also ideal for long-term storage.
Quantum Storage: Scientists are investigating ways to store data using quantum physics-e.g., a bit of data attached to the spin of an electron. In future, we could see instant data syncing between two points anywhere, thanks to quantum entanglement.
These are a few technologies which come to rescue for our data storage requirements. Although some of these innovations seem promising, they are not without their drawbacks which might render them infeasible for the consumer market.