Delivering End To End

Salesforce Development Solutions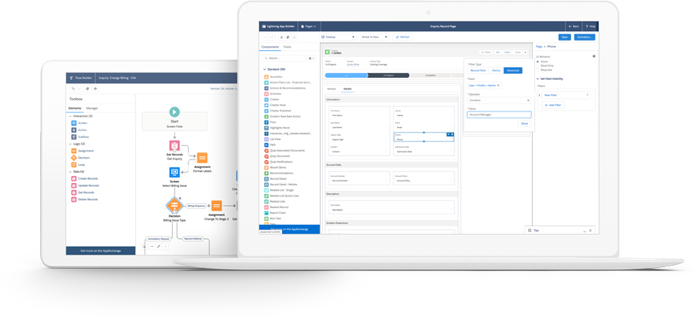 Take your business on the hypergrowth path with faster, better, and robust Salesforce Development Services by the vetted salesforce developers at Pratham Software. With our highly experienced salesforce engineers and consultants, enrich your business with the salesforce advantage.

We offer end-to-end Salesforce Development Solutions through the industry's best developers that integrate flawlessly with your systems and the cloud-based programs to streamline your business processes. Let us know what you need, and we will deliver the salesforce solutions that align with your business and are at par with your expectations.
Our

Salesforce Offerings
Salesforce Consulting
We at Pratham Software hold valid credentials in Salesforce.com. Our specialists have years of experience handling different Salesforce services for B2B companies. Professionally, we offer consulting services for brands, providing guides, recommendations, and other valuable services that the Salesforce will be a win-win option for them.
Salesforce Implementation
Our company offers the full Salesforce suite of implementation solutions for all business clients to improve their customer relationship management process. Here, you can expect solutions and help with various options like Sales Cloud, Field Service Lightning, Communities, Salesforce CPQ, and Marketing Cloud.
Salesforce Integration
Salesforce is compatible with other systems/apps and operates with them well to improve their productivity standards. We help our customers set up their integrated system, for easier customer account data management, data sharing, sales figure monitoring, etc.; all to improve customer services.
Salesforce Development & Customization
The different experts at our company work together with the client they are serving to develop suitable solutions for their business and sales requirements. Overall, we target and combine solutions related to sales, marketing, service, IT, commerce, and analytics via integrated digital workflows.
Salesforce Migration
For companies moving their services and solutions to Salesforce CRM, our professional Salesforce specialists perform data migration services, plan efficient project solutions with minimum downtime and data loss risk. Expect efficient, well-organized, and full-scale data migration plans from us.
Salesforce Maintenance & Admin Support
Proper maintenance of the Salesforce platform is important to ensure high customer satisfaction. For this, our team with trained experience would monitor and guide all maintenance and administrative support responsibilities, to ensure a smoother and stable CRM performance for your business processes.
Salesforce

Cloud Solutions
Sales Cloud
With Sales Cloud, users get one platform to handle all of their data, apps, interactions, and alerts with different customers and partners. You can foster a better customer-brand relationship, monitor business processes in real-time, improve rep productivity, and revenue. Sales Cloud works well for different companies, irrespective of their industry, location, or size.
Service Cloud
Customer service is in a better condition with the integration of Service Cloud solutions for the support team, apps, and more. The available tools are instrumental in improving customer engagement across multiple channels, enhancing call center management services, automating business procedures, and driving revenue growth.
Industry Cloud
Salesforce is usable across multiple industries and the industry cloud solution is vital for that. The industries in question include Finance, Healthcare & Life Sciences, Education (K-12/Higher Education), Communications, Public Sector, Consumer Goods, Manufacturing, Retail, Transportation & Hospitality, Media, Energy & Utilities, Automotive, and Non-Profits.
Education Cloud
Educational institutions utilize this solution to run their CRM platforms seamlessly, automating most of their digital workflow activities. With this, organizations can keep track of student data through one platform, personalize user interactions, and offer a collaborative community for K-12/Higher Education prospects and Advisory Council(s).
Health Cloud
Healthcare organizations benefit from the collaboration solutions related to Salesforce healthcare & life sciences. Employees get a streamlined engagement portal to connect to patients, their data, and healthcare process and personalize their health journey over multiple touchpoints. The platform is HIPAA-compliant.
Salesforce

Product Solutions
Salesforce Lightning
We help our clients with Salesforce-based Field Service Lightning solutions to increase field service management efficiency rate and accuracy. This agile solution of ours ensures good field support and functionality, reduced expenses, and service assets. Our experts can help with contact center management, ERP integration, routing optimization, and more.
Force.com Development
With Salesforce.com development, we guarantee a higher rate of functionality and reach for your CRM. This is simple to work with even for companies while utilizing the platform and develop apps seamlessly. One of the best features of this is the drag-and-drop filter. Users, therefore, can create their apps using Salesforce tools and automate their processes easily.
Einstein Analytics
Einstein Analytics effectively analyses all data, predicts conversion potential of the different leads/opportunities, and uncovers usable insights/trends. With our help, you can set the Sales Cloud Einstein for your system and get predictive analysis and data entry automation benefits. Streamline your marketing strategies and generate leads focusing on the right insights.