Wearable Devices; determining scope across industries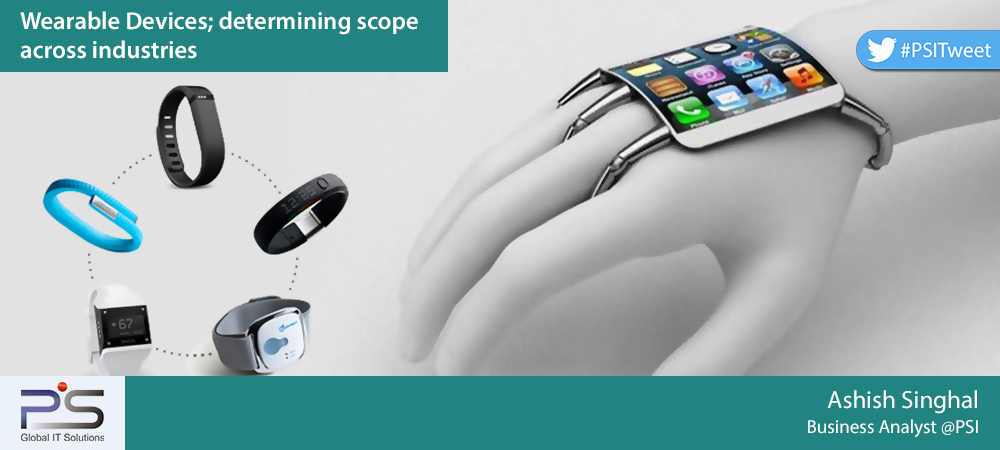 A random report by a market research firm forecasts that the Wearable Technology market will grow to worth 31.27 Billion USD by 2020.
Wearable devices comprises a gamut of new technologies that for sure determines the future for us; smart watches, fitness trackers, heartbeat trackers, smart glasses, GPS tracking devices and much more. A study by Forbes, states that by the end of 2016, the entire wearable technology market will cross almost $2 billion in revenues.
The question today is; what is and will be the actual industry scenario? What is the impact of wearable devices in different industry domains?
Health and Fitness Industry: Wearable devices were initially conceptualized and used for the healthcare and fitness domain. The monitoring devices market is on a growth spree and will continue to grow in the near future. The wrist and eye based devices have been the center so far, but now ear based devices will also expand. They are gaining an edge over the others due to their innate capability to monitor individual's biometric functions. Also ear based devices will serve the purpose of two way communication while hands remain engaged. Nevertheless, wrist based devices will rule the fitness market as various brands are in process of launching products.
Banking Industry: The wearable devices have not yet penetrated into the financial industry. Imagine a scenario, if the devices could interact with the financial institutions' system and provide information about the individual account balances and transactions. The organizations can also promote their products and services to the customers via wearable devices. The industry is the largest source of consumer data, but due to regulations and restrictions, the required information cannot be processed that easily. The insurance players can utilize wearable devices to capture information about the insured product, their physical condition in case of claim files and much more.
Manufacturing Industry: The shop floor conditions can be easily accessed and monitored by the devices. More than half of the global manufacturing organizations plan to include wearable technology in their functioning. The devices will not only improve the safety of the workers, but also guide them through the possible faults and hazards in production line.
Logistics Industry: A domain where the service providers can use the technology in all aspects of operations. The staff can generate passenger information w.r.t booking tickets, luggage, flight delay, boarding alerts status and much more. The maintenance staff can use them to capture, inspect and assess the aircraft conditions. The future devices might even help and instruct them to resolve the specific problems and concerns.
Retail Industry: Though at a nascent stage, retailers contribute largely towards generating desired consumer data and sales for the wearable devices industry. If the technologies converge at a single platform, consumers will be able to search for items, select them based on additional information and finally make payments all through their wearable device, and experience a holistic shopping experience. The major retailers are exploring further research in this domain in the prototype labs to create a fulfilling user experience.
Some prominent names in the wearable technology market are Adidas AG (Germany), Apple, Inc. (U.S.), Fitbit, Inc. (U.S.), Garmin, Ltd. (Switzerland), Google, Inc. (U.S.), Jawbone, Inc. (U.S.), LG Electronics Inc. (South Korea), Nike, Inc. (U.S.), Pebble Technology Corp. (U.S.), Qualcomm, Inc. (U.S.), Samsung Electronics Co., Ltd. (South Korea), Sony Corporation (Japan), and Xiaomi Technology Co., Ltd. (China). (source: http://www.marketsandmarkets.com/PressReleases/wearable-electronics.asp)
Research reports state that USA holds the largest market share in wearable technology due to some determining factors namely, technological innovations and a potent marketplace. Moreover, other factors propelling this growth are increase in chronic diseases, diabetes patients, and ease of use.
Image Courtesy: www.paneuropeannetworks.com