SharePoint 2016: The Future Is Hybrid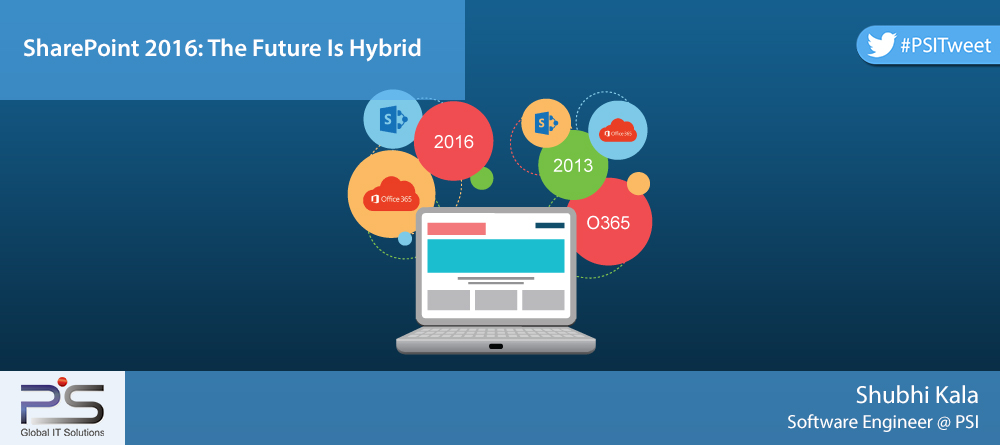 SharePoint Server 2016 brings new hybrid capabilities that enable on-premises users to tap the cloud innovation delivered in Office 365 and modernize the infrastructure, speed, and security. The latest version pays close attention to the trends in content management, team collaboration, user experiences across devices, and efficiently blends the cloud into existing on-premises scenarios in new and compelling ways. SharePoint Server 2016 will deliver significant values and new capabilities in three major areas:
Improved User Experience

Mobile and touch Experience
App launcher and UI changes
Personalized insights
People-centric file storage and collaboration

Cloud-inspired infrastructure

Hybrid cloud with global reach
Improved performance and reliability
Support and monitoring tools

Compliance and recording

New data protection and monitoring tools
Trusted platform
Though SharePoint 2016 beta version has been available for quite some time now, here we evaluate it against SharePoint 2013:
There is better integration with the Office 365 tools. Users will be able to use Office 365 services like Delve, Sway and Office Graph with SharePoint as well.
1. Hybrid One Drive for business
The Easy way to store, share, and collaborate in the cloud with One Drive for Business in Office 365. This best-of-both-worlds approach lets us keep our key business information in our own environment while allowing users the flexibility to access their documents from anywhere.
2. Cloud Hybrid Search
Allows the users to search for file and documents and get results both from on-premises and Office 365 content at the same time.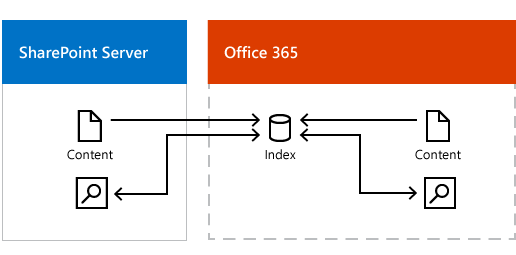 Better Searching Experience
Even though SharePoint 2013 allows us to search local and cloud servers, indexes are kept separate for the two environments with 100 million indexed items per search. In SharePoint 2016, there will finally be a true hybrid index which will increase the search scale by 5 times up to 500 million indexed items per search.
Enhanced sharing experience
Provides the more likely way to share sites and files. Just click on the Share button at the top right corner of every page, write the names of people you want to share with, and it's done. The people mentioned, will get an email invitation with a link to the site.
The default maximum file size for SharePoint 2013 is 250 MB, which can be increased up to 2 GB. SharePoint 2016 will blow 2013's version with a 10 GB maximum, including the removal of character restrictions.
SharePoint 2013 allows users' storage of 200 GB in general usage scenarios which can expand to 1+TB in 2016 version. A single content database in the 2016 version can hold 100,000 site collections that is 20 times greater than the existing version.
Allows SharePoint farm administrators assign specific server role (Front End, Application, Distributed Cache, Custom etc.) in the farm topology while creating a new farm or joining a server to an existing SharePoint farm. This was missing from SharePoint 2013.
Targets a direct upgrade path from SP2013, but for those with the SP2010 farm, it needs to be first upgraded to 2013, before upgrading to 2016.
Downtime is eliminated in SharePoint 2016 by patching the SharePoint farm while installing the binaries and running the SharePoint Configuration wizard, such downtimes were earlier required to update SharePoint Server.
SharePoint 2013 owns this feature only if there is an availability of Office Online Server whereas resource-based URLs retain links when documents are renamed or moved is an intrinsic feature in SharePoint 2016.
Site Creation time in 2016 is reduced to 1 second from 40 seconds on an average in SharePoint 2013. This rapid process to create the site collection and sites in SharePoint could be made possible by providing the templates on the same server as SQL, thus reducing the round trips between SharePoint and SQL Servers.
Business Intelligence Feature
Upgrading to SQL Server 2016 bestows the power pivot and power view for SharePoint add-in.
SMTP Connection Encryption
SharePoint Server 2016 supports sending emails to SMTP servers using STARTTLS connection encryption which was not secure in SharePoint 2013.
Integrated Project Server 2016
Project Server 2016 for SharePoint 2016 has many new capabilities and features, including:
Resource Engagements: Now project managers use the new Resource Plan View to create the request for resources. Also, resource managers can use the new heat map functionality to see the resource availability information.
Multiple Timelines: Project and Portfolio managers can now create multiple timelines in a single view through Project Centre or schedule page.
Single database for multiple instances.
One installation – Project Server and SharePoint Server.
Cloud grade performance and scale: Many performances and scalability improvements have been added to Project Server 2016.
Happy SharePointing!